Family Dentistry in Millersville, MD
We Can Help You Achieve a Bright, Healthy Smile
Walking into a room with a smile on your face helps set a cheerful tone for any interaction. The team at Millersville Family Dentistry can help ensure your teeth are bright and healthy with dental services in Millersville, MD. We are proud to be a one-stop shop for everything from general dentistry to cosmetic dentistry for your whole family. Our friendly team is committed to delivering exceptional dental care in a comfortable, inviting environment. Furthermore, we strive to make things easy for you. We have convenient hours six days per week to accommodate your schedule, and we accept most major insurance providers. After your visit, you will be proud to display your pearly whites. Call us today to learn more about our comprehensive dental services.
Our Comprehensive Dental Services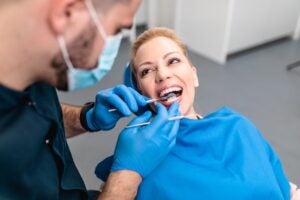 Millersville Family Dentistry specializes in all types of dental services. Our state-of-the-art clinic is equipped with the latest tools and technologies so that we can address all of your oral healthcare needs. Patients throughout Millersville, MD have relied on us for years, and we are confident we can serve your family well. Our comprehensive dental services include:
Our family dentistry services satisfy the needs of patients, young and old. We are proud to be an oral healthcare provider for you, your children, and even your parents. For your convenience and to save you a trip, we can schedule appointments in succession for the whole family.
We know oral healthcare needs can sometimes be sudden and unexpected. For these circumstances, we provide emergency dentistry services. Our emergency dental care can address infected gums, abscesses, tooth avulsions, and more.
In addition to cleaning and strengthening teeth, we offer cosmetic dentistry to improve the appearance of our patients' smiles. If you have slightly discolored or misshapen teeth, ask us about your cosmetic options.
For patients who need to straighten their teeth but do not want clunky metal braces, we offer Invisalign® products. These custom-made, clear aligners fit comfortably on your teeth and gradually move your teeth to the proper position.
Dental crowns and bridges protect damaged and sensitive teeth while also covering decayed teeth. Millersville Family Dentistry offers these tooth restorations to individuals who want to improve their smiles.
We can fit you for complete dentures or partial dentures to replace your missing natural teeth and provide support for your cheeks and lips. Among the benefits of dentures are improved speech, easier chewing, and an enhanced smile.
If you prefer a more permanent solution to missing teeth, dental implants may be right for you. These tooth restorations are fixed in place, so you never have to worry about them shifting or slipping out of your mouth. On top of that, they are durable and comfortable.
We perform root canals for patients with severely decayed or infected teeth. We will ensure you are as comfortable as possible as we remove the nerve of your infected tooth and seal it to prevent further decay.
We use tooth-colored fillings to treat cavities. Utilizing composite resin instead of amalgam to fill your teeth helps improve the appearance of your smile while still providing strong, durable protection against decay.
Our general dentistry goals include maintaining or improving our patients' oral health. We accomplish these by providing home care education, regular dental checkups, teeth cleanings, and dental exams, among other services.
Individuals of all ages need dental care to protect their teeth and gums. We provide pediatric dentistry services for children five years of age and older. Bring your son or daughter to our Millersville, MD clinic for checkups, teeth cleanings, and fluoride treatments.
Everyone wants a shiny, white smile. If your teeth have become discolored over time, visit us for professional teeth whitening services. We offer the Zoom! in-office teeth whitening procedure to lighten your teeth.
Meet Dr. Mohamed Ahmed, DDS
Our family dentistry clinic is owned and operated by Dr. Mohamed Ahmed. After graduating from Dental School, Alexandria University in Egypt, Dr. Ahmed moved to the United States, where he began practicing general dentistry and then furthered his education at Loma Linda Dental School. Dr. Ahmed is a member of the Academy of General Dentistry, a member of the American Academy of Clear Aligners, and Omicron Kappa Upsilon National Dental Honor Society. He is passionate about caring for people and helping them maintain healthy, beautiful smiles.
Contact Millersville Family Dentistry Today
People are drawn to warm, broad smiles, so we want you to be comfortable displaying your teeth in social and professional settings. To ensure you can, Millersville Family Dentistry offers a wide range of general and cosmetic dentistry services in Millersville, MD. Contact our friendly team today to schedule your next appointment.