Dental Sealants in Millersville, MD
Trusted Dental Sealants for Protecting Your Teeth
Dental sealants are small, protective coatings created using resin-plastic or other high-quality dental materials. These thin coatings are used to fill gaps or spaces that are not reachable with a traditional toothbrush on your back teeth or molars to combat cavities and keep your teeth safe and in good condition. When your teeth need extra care, come to Millersville Family Dentistry for dental sealants in Millersville, MD.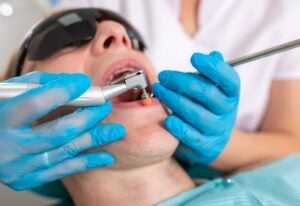 Candidates for Dental Sealants
Dental sealants are suitable for any patient with adult teeth looking to protect their oral health and hygiene at any age. Additionally, they're suitable for children as they are preventative and can be used on grooved baby teeth. It's important to note that dental sealants cannot be used if a patient has pre-existing dental fillings.
How Are Dental Sealants Applied?
The dental sealant application is non-invasive and pain-free, completed in the following steps:
The teeth are cleaned, disinfected, and dried
An acid solution is applied on the chewing surface to create an absorbing texture for the sealant solution.
The solution is then rinsed, and the tooth is dried
The plastic sealant is placed by painting it into the target tooth, where it hardens instantly
How Long Do Dental Sealants Last?
Dental sealants can last as long as 10 years with proper maintenance and care. Make sure you visit our dentist twice annually to ensure your dental sealant is in good condition and free of any chips or damage. Furthermore, practicing good oral hygiene habits is important to promote optimal oral health and dental sealant longevity.
The Benefits of Dental Sealants
Dental sealants offer an array of benefits, including:
Seal pits, grooves, and other bacteria-prone surfaces that lead to tooth decay
Protect hard-to-reach teeth that are more susceptible to plaque and buildup
Cost-effective and more affordable than a cavity filling
Safe and Effective Dental Sealants
Dental sealants are a safe and effective method for protecting your teeth from tooth decay. They are known to be more effective at deterring cavities than fluoride or any alternative preventative dental treatment. With proper care and replacement, when necessary, dental sealants enhance your oral health.
Dental Sealants Risks
There are very minimal risks associated with dental sealants. No toxic agents or materials are used in the process or application, and they do not cause tooth decay or damage once implemented, making them a safe and effective choice for protecting the integrity and health of your teeth and smile.
Dental Sealants and Insurance
Certain insurance providers offer coverage for dental sealants for children, depending on their age. In most cases, children under 18 will be covered by insurance for their dental sealants. However, adults are typically not covered and must pay out of pocket for their dental sealant treatment.
Choose Millersville Family Dentistry
The dental professionals at Millersville Family Dentistry are highly trained and accredited, backed by decades of experience. We provide a comfortable and welcoming atmosphere where our patients feel informed and well cared for. As industry leaders, we uphold rigorous quality standards and ensure the best for our patients.
Enhance Your Smile with Our Trusted Dental Professionals
Millersville Family Dentistry is committed to the highest quality care for your whole family. We provide an array of general dentistry and pediatric dentistry services as well as specialty dental treatments to ensure your oral health remains protected and your smile remains glowing and white. Millersville Family Dentistry has the solution with our trusted dental sealants if you're looking for a safe and effective way to prevent decay and protect your oral health and smile. Contact our friendly team today to schedule your dental sealant appointment and discover your healthiest smile.
Our Value
Statements
SAME DAY Emergency Appointments
Convenient Hours/Location
State of the Art Practice
Interest Free Payment Plans
Practice Serves the Entire Family
Accepts Most Insurances