Emergency Dentistry in Millersville, MD
Lost a tooth? Have sore teeth? Have an abscess on your gums? Can't sleep at night due to jaw pain? When dealing with your teeth or your child's dental care, it's almost impossible to predict or plan for a dental emergency. That's why Millersville Family Dentistry offers flexible hours and emergency services.
We know dental emergencies can occur at any time and that you might find yourself in need of immediate assistance outside of normal business hours. If this happens and you are in need of emergency dental care, you can still get in touch with us when our office is closed, and we can accommodate you on the same day.
Immediate dental care
There's nothing worse than a dental emergency. Fortunately, Millersville Family Dentistry is here to help, providing top-tier service with ease and efficiency. We work closely with each of our patients to ensure your appointment is set up as soon as possible because we know how much pain and discomfort can affect your everyday life.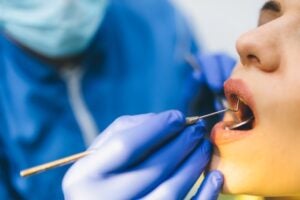 Millersville Family Dentistry can help with:
Toothaches
Extractions
Infected gums
Abscesses
Wisdom teeth
Loose or broken crowns/bridges/fillings
Periodontal care
TMJ
Swollen jaw
Permanent tooth knocked out
Object caught in teeth
If you have a dental issue that needs emergency care, don't hesitate to call us today.
Same-day service
In many cases, we can help with your dental emergency the same day you come in. We pride ourselves on staffing a team of dental specialists who have years of experience dealing with dental emergencies. Our number one goal is always reducing your discomfort and fixing the issue so you can get back to enjoying life. We know the pain and hassle that comes from dental emergencies. At Millersville Family Dentistry, rest assured you are in good hands.
Treating you like family
At Millersville Family Dentistry, we place a premium on providing our patients with the best service possible, and our emergency dental services are no different. We aim to create long-lasting relationships with our patients so we can better serve you.
When you are having dental issues and need immediate care, come to the top dentists. We provide our emergency service to both adults and children so that the entire family can get the care they need quickly and effectively.
Getting the care, you need
From chipped teeth to jaw pain to tooth decay, we've seen it all at Millersville Family Dentistry. We've stayed up to date with the latest treatment techniques so we can better service your needs. Our entire staff is well-trained to deal with a host of dental and periodontal emergencies.
Best of all, many of our emergency dental services are covered by major insurance plans. If you have questions about a particular procedure and insurance claims, give our office a call today to speak with one of our receptionists.
If you are faced with any type of dental emergency outside of normal business hours, call us today at 410-729-0390.
Whether you suffer from a serious mouth injury or severe toothache, our Millersville emergency dentists can provide the services you need. Check out our Emergency Dentistry FAQ to answer common questions about what constitutes a dental emergency and much more.