Colored Tooth Fillings in Millersville, MD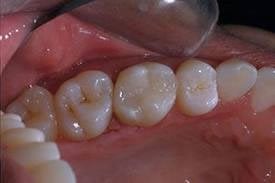 Everything wears out, and your silver fillings are no exception. They have to endure an incredible amount of biting force each day, and as they age, their appearance and function degrade.
Over time, silver fillings (also known as amalgam fillings) often absorb moisture, causing them to swell and break away from the tooth. When this happens, your tooth is no longer sealed and protected from decay. Food and bacteria can become trapped in this space, enabling cavities to form.
A common misconception is that a silver filling will last forever. Amalgam is one of the most durable filling materials, but amalgam fillings don't last forever. Some may last for more than a decade, but others can begin to fail in as little as five years.
When we recommend a restoration to replace your worn silver filling, we'll consider both the size of the filling and the amount of healthy tooth structure that remains. We can replace a fairly small filling with a more natural-looking material called composite resin. A Composite Resin Filling has a number of advantages.
If you have a fairly large filling on a back tooth, this biting pressure could cause a portion of the tooth to break away. To strengthen it and protect it from future damage, we may need to place a crown on your tooth.
It takes at least two appointments to create a crown for you because it's custom-made to precisely fit your tooth. First, we'll prepare the tooth, and take an impression. Using this impression, a model of your mouth is created; your crown is fabricated on this model. You'll wear a temporary crown to cover and protect the prepared tooth while your custom crown is being fabricated. When your custom crown has been fabricated, you will come back for its delivery. The dentist will then verify that it fits properly in addition to making sure that it is comfortable for you. A natural-looking porcelain crown on your tooth will restore its function as well as prevent more serious problems from arising in the future.
Protects the tooth
Strong and durable
Withstands biting forces
Natural-looking (tooth-colored)