Dental Inlays and Onlays in Millersville, MD
Everything You Want to Know About Dental Inlays and Onlays
Also known as a partial crown, dental inlays and onlays restore teeth shape, color, and contour for a glowing, natural smile. Millersville Family Dentistry provides dental inlays and onlays in Millersville, MD as part of a cosmetic dental treatment as a replacement for metal fillings and a treatment for those looking to perfect their smile.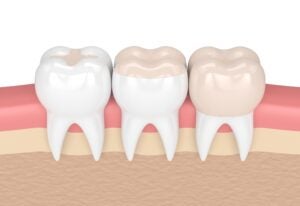 Dental Inlay and Onlay Application
The dental inlay and onlay procedure is performed during two visits. During the initial appointment, the tooth's filling or area of concern is removed, and an impression is taken to ensure a good bite and fit. The impression is sent to the lab for manufacturing, and the patient is given a temporary until their permanent inlay or onlay is ready.
The Dental Inlay and Onlay Procedure
The procedure is prompt and efficient. The dentist will remove small cavities or areas of concern and place the inlay or onlay. The material mustn't get caught or cracked as they expand upon placement. Improper placement results in an incomplete restoration and, in severe cases, permanent damage to the tooth.
The Benefits of Dental Inlays and Onlays
Inlays and onlays are less invasive than alternative dental restoration methods and provide an array of benefits, including:
Natural tooth color that seamlessly blends with your smile
Facilitated teeth cleaning
Precise fit and comfortable bite
They fulfill tight spaces
They enhance the strength and stability of your natural teeth
The Difference Between Dental Inlays and Dental Onlays
The primary difference between dental inlays and onlays is what goes on top or beneath the full. Onlays are made with one material, such as porcelain or composite, and they are generally larger than inlays, with less filling. Dental inlays are typically more affordable and more commonly used as they are often covered by insurance.
How Long Do Inlays and Onlays Last?
With proper care and maintenance, inlays can last between 15 and 30 years, which is much longer than a dental crown, while offering a more pleasant procedure. Onlays receive more wear. As such, they offer a lifespan of about 10-15 years. However, if an inlay or onlay is impacted, it can fall out or become damaged, requiring a replacement.
What Are Inlays and Onlays Made Of?
Inlays and onlays can be made from the same materials. Several materials are commonly used for dental inlays and onlays, including porcelain and composite or gold and metal, which are seldom used in modern dental inlay or onlay procedures.
How Much Do Inlays and Onlays Cost?
The cost of dental inlays and onlays will vary depending on the patient and the material used for the inlay or onlay. Our dental professionals at Millersville Family Dentistry can provide an accurate estimate following a consultation for your dental inlay or onlay procedure.
Dental inlays are custom-made for each patient, making them slightly more expensive than traditional fillings, ranging between $500-$2000. However, they are cost-effective in the long run as they have long lifespans due to their enhanced durability and minimized need for repairs or replacements.
Dental onlays cost around $900, depending on the needs of the patient and the material used. With dental insurance, they may be slightly more affordable, and certain dentists may offer financing plans to facilitate your dental onlay payments.
Choose Millersville Family Dentistry
Millersville Family Dentistry is here to ensure you receive high-quality care in a comfortable and welcoming environment when you need trusted restorative dentistry, routine cleanings, or any other dental care service. Our highly skilled and experienced dental professionals ensure personalized dental solutions and excellent results no matter your unique dental needs.
Let's Discuss Your Dental Inlays and Onlays Today
If you need a dental inlay or onlay to restore a damaged tooth or teeth, Millersville Family Dentistry provides durable, long-lasting dental inlay and onlay solutions that give you a healthier smile. Contact our friendly team today to schedule your dental inlay or onlay consultation.
Our Value
Statements
SAME DAY Emergency Appointments
Convenient Hours/Location
State of the Art Practice
Interest Free Payment Plans
Practice Serves the Entire Family
Accepts Most Insurances