Restoring Smiles with Dental Implants in Millersville, MD
Replace Missing Teeth with Our Implant Option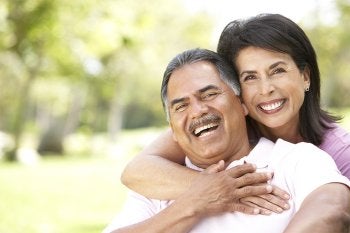 Missing teeth are not only detrimental to the appearance of your smile, but also your oral health. They can cause chewing and speaking difficulties, as well as a loss of bone mass in the jaw. For this reason, it's important to have teeth replaced as quickly as possible to restore your smile and preserve your oral health. The team at Millersville Family Dentistry can complete the procedure for dental implants in Millersville, MD. Our dentist has perfected the technique of this conservative treatment, allowing you to have a beautiful, working smile once again. Implants are the perfect choice for patients who have not lost enough teeth to call for dentures. Contact our team today to schedule a consultation.
Benefits of Dental Implants
When you have missing teeth, you have more than one option to replace them. You can choose between a dental bridge, dentures, or a dental implant for your tooth replacement. While dental bridges often come at a lower initial cost, they will likely require replacement later in life and are not as strong as implants. Many patients choose to get dental implants due to the following benefits:
Durability: Dental implants offer a permanent solution to tooth loss, as long as you care for them properly. Because the replacement tooth is supported by a metal post inserted into the jawbone, they are much more stable, offering the strength to eat all your favorite foods.
Function: Unlike removable dentures, implants are fixed in place. You won't have to worry about them slipping and sliding out of place during meals or while chatting with friends.
Appearance: Dental implants give you a way to totally restore your smile. Gain back your confidence by replacing your missing teeth.
Comfort: Since dental implants are fixed in place, they allow a more comfortable and natural feel, just like that of real teeth. You can chew and speak, just as you would with natural teeth.
The Dental Implant Process
There is a process required to complete dental implants. Unfortunately, implants can't be completed in one visit. Rather, it is a process that must be done over several months to produce the best results. While that may sound like a long time to wait for a tooth replacement, the end result is very much worth it. Not to mention, we can place a temporary tooth in the gap, so you won't have to be without a tooth during the entire process. After your initial consultation, the implant process will include the following steps:
Placement of Implant: This is the most invasive part of the implant procedure. The oral surgeon will open the gum to expose the bone, where a hole will be made to accommodate the implant. If you're replacing an existing unhealthy tooth, it will be removed, and the implant placed in the same position. The metal implant is placed deep in the bone to act as the tooth root, and your gum is sutured back together.
Healing and Bone Growth Period: Next, you'll have to go through a healing period for a couple of months. During this period, we're waiting for the bone to grow around the implant, which will provide a solid base for the new tooth.
Placement of Abutment: After the bone has fully grown around the implant, your dentist will place the abutment on top of the metal post. The abutment is the part of the implant that will attach the post to the artificial tooth.
Placement of Artificial Tooth: Once the abutment is placed, it's time to complete the process with an artificial tooth. The new tooth is created to perfectly fit in the open space in your gum and will match the color of your natural teeth. It is placed on top of the abutment and secured with a screw or dental cement.
Weighing the Cost of Dental Implants
Many patients are curious about how many dental implants cost. The answer is, the average cost of dental implants will vary from patient to patient depending on the situation. At Millersville Family Dentistry, we do our best to keep this procedure affordable for patients. In some cases, insurance may cover a portion of the procedure to help keep the cost to a minimum. We invite you to visit our office for a consultation to learn more about the procedure and the cost associated with it.
Why You Should Contact Us for Dental Implants
At Millersville Family Dentistry, we have a qualified dentist who has experience completing dental implant procedures at our Millersville, MD dental office. It's better to replace your missing tooth sooner rather than later, as missing teeth can cause numerous oral health concerns, including teeth misalignment and bone loss. Please contact our team today to get started in your replacement process.
Our Value
Statements
SAME DAY Emergency Appointments
Convenient Hours/Location
State of the Art Practice
Interest Free Payment Plans
Practice Serves the Entire Family
Accepts Most Insurances