Providing Pediatric Dentistry Services in Millersville, MD
Gentle Dental Treatments for Children Aged Five and Older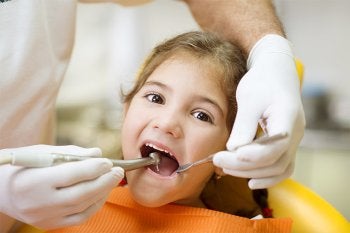 The type of dental care your child receives now will undoubtedly impact his or her oral health for years to come. It is important that you take your child to the dentist regularly, so he or she can receive the appropriate preventative care, as well as treatment for any dental concerns that may arise. When you keep up with scheduled dentist visits, we can detect problems with your child's oral health and hygiene habits early. At Millersville Family Dentistry, we provide excellent pediatric dentistry services in Millersville, MD. Our friendly, experienced dental team treats children who are five years old and older. If you're looking for a new family dentist who offers gentle but thorough dental treatments for children, you've come to the right place. Pediatric dental treatments are at the heart of what we do best.
What Is a Pediatric Dentist? Why Is Pediatric Dentistry Important?
There are many types of dentists, but a pediatric dentist focuses on treating patients under the age of 18. Children and teens have different dental needs than adults. From the time your toddler's first baby teeth come in to the time when he or she is getting ready for college, dental checkups are essential to ensure their teeth, gums, and mouth stay healthy. A pediatric dentist is specially trained to provide the best possible dental care for children, taking into account their physical, emotional, and psychological well-being to reduce any anxieties they may have about visiting the dentist. Taking your child to the dentist at an early age helps him or her establish a lifetime of healthy oral habits. The risk of cavities, tooth decay, and periodontal disease is minimized when your child regularly visits the dentist.
What Are the Benefits of Visiting a Pediatric Dentist?
Offices that provide pediatric dentistry services, such as Millersville Family Dentistry, are dedicated to creating a child-friendly environment to make visiting the dentist feel warm and inviting. Pediatric offices are usually bright and cheerful, with plenty of books, toys, and games in the waiting room to ensure your child has a positive experience. Our staff is trained to make children feel welcome and at ease. We explain all procedures in easy-to-understand terms and answer children's questions. When children know and understand what's happening during an exam or cleaning, we find they are usually more comfortable and cooperative. However, we do know some ways to distract or soothe children who are uneasy about being in the exam room. We strive to make learning about oral hygiene and visiting the dentist fun using colorful props and aids, so your child looks forward to the next visit!
Thorough Pediatric Dentistry Services, Including Urgent Care
Much of pediatric dental care is preventative. Thorough exams and X-rays may be used to evaluate your child's oral health. We keep a watchful eye on crooked teeth, overcrowding, and any other development issues as your child loses his or her baby teeth and paves the way for permanent ones. Occasionally, pediatric dental care may be considered restorative, cosmetic, or emergency care. If your child has knocked out a tooth, gotten an object stuck in their teeth, or has a severe toothache, we have same-day emergency appointments available in many cases. Teens often take advantage of our Invisalign® clear aligners to straighten their teeth and our wisdom teeth extraction services when the time comes. Our pediatric dentistry services include all of the following and more:
Checkups and exams
Thorough tooth cleanings
Fluoride treatments
Pediatric urgent care
Why Choose Millersville Family Dentistry for Your Family?
Millersville Family Dentistry offers comprehensive dental services for the entire family. From cleanings and exams to teeth whitening, tooth-colored fillings, crowns and bridges, and root canals, we're equipped to accommodate your general, cosmetic, restorative, and emergency dental needs. You're in excellent hands when you visit our state-of-the-art practice conveniently located on Old Mill Road in Millersville, MD, right off Crain Highway and near Calvin's Barber Shop, A-1 Pizza & Subs, and Sushi Q3. Our office accepts most insurance plans. Come see us today for all your family's dental care needs!
Is It Time for Your Child's Checkup? Contact Us Today!
There are a few things you can do at home to help keep your child's teeth healthier in between dental visits, such as feeding him or her healthier foods, avoiding sugar, and skipping sweet drinks. A proper diet paired with exceptional home care techniques can go a long way in preserving your child's oral health. If it's time for your child's next dental checkup, contact us today to schedule an appointment.