Invisalign® Treatment for the Millersville, MD Community
Invisalign® is the latest in teeth straightening technology. A powerful alternative to traditional braces, this amazing and effective treatment method allows you to fix and straighten your teeth faster, more effectively, and with less hassle than ever before.
Whether you're struggling with crooked teeth, unsightly gaps, an overbite or underbite, or would simply like a straighter smile, the innovative Invisalign® treatment method is a proven and effective way to safely achieve the look and confidence you've been searching for.
If you're in Millersville or the surrounding area and are searching for a comfortable, effective, and noninvasive way to achieve a more beautiful smile, the Invisalign® experts at Millersville Family Dentistry can help.
What is Invisalign®?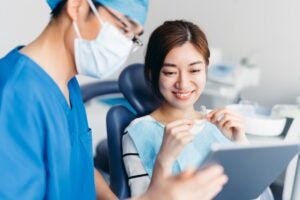 Invisalign® is the most advanced and effective way to achieve a straighter and more beautiful smile. Through the use of removable custom-made, clear aligners that fit comfortably on your teeth, Invisalign® offers a faster and more powerful alternative to traditional teeth straightening treatment.
We first perform a 3D scan of your teeth within the comfort of our local office. This scan provides a complete picture of your smile, allowing us to customize the plan that best works for correcting and straightening your smile as quickly and safely as possible.
Once a plan is developed, your personalized aligners are created using Invisaligns state-of-the-art printing technology. These clear plastic aligners are designed to fit snugly on your teeth, as well as to gently move and correct the imperfections in your smile over the next few months.
Over the course of your treatment, Millersville Family Dentistry will work with you to schedule checkups every six to eight weeks to monitor your progress. The average Invisalign® length of treatment for our Millersville patients last up to three months.
Why choose Invisalign®?
Crooked teeth and gaps in your smile can affect your appearance and your confidence. You need a solution you know will deliver results, yet traditional braces require a commitment of time and inconvenience you just aren't ready for.
With the Invisalign® treatment option, you have the opportunity to correct the problems in your smile safely, comfortably, and with minimal visits to our office. Unlike traditional teeth-straightening methods, which require intrusive, unsightly metal brackets wires that can make eating, drinking, and oral health maintenance a hassle, Invisalign® aligners offer a removable, comfortable, and virtually invisible way to get straighter, better-looking teeth without interrupting your life.
Invisalign® technology eliminates the need for uncomfortable wires and brackets, providing you with a comfortable, convenient, and proven method for straightening your teeth on your time. Check out our Invisalign FAQ page to answer all your pressing questions about Invisalign.
Invisalign® experts near you
The team at Millersville Family Dentistry offers Millersville patients effective, affordable, and exceptional dental treatments from the comfort of a welcoming dental environment. As experts in the Invisalign® treatment, we are happy to deliver yet another innovative method for achieving the bright and beautiful smile you've always wanted.
Our goal is to provide you the healthy, beautiful smile you deserve. We'll work with you to determine if the Invisalign® treatment option is right for you.
Call or Contact us (410) 729-0390 today to schedule an appointment.