General Dentistry in Millersville, MD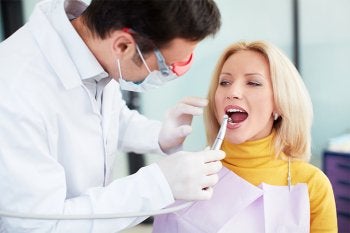 Our general dentistry practices focus on maintaining and improving your oral health by offering home care education, regular dental checkups, teeth cleanings, dental exams and more. Your oral health is our top priority, and we aim to meet all of your needs by offering a wide range of services at Millersville Family Dentistry
The goal at our Millersville dental office is to provide you with quality dental care without having to refer you to an outside specialist, saving you both time and money. Read on for more information about our general dentistry offerings.
Teeth cleaning
To keep your teeth healthy and prevent emergencies down the line, we offer biannual cleanings to our clients.
Although you may brush your teeth every day, regular dental cleanings help remove any buildup of plaque, which can cause tooth decay and gum disease. We'll thoroughly clean your teeth and make sure you're regularly cleaning between your teeth and keeping your gums healthy.
X-rays and dental exams
X-rays and dental exams are another key part of maintaining healthy teeth and gums. During your exam, we will talk with you about your oral health and hygiene, evaluate your risk of tooth decay and gum or bone disease, and check your bite and jaw for problems. Dental X-rays provide us with detailed images of your mouth, allowing us to do a more thorough analysis. We will assess whether you need any tooth restoration or replacement and answer any questions you have about your oral hygiene practices.
Root canal therapy
Despite the reputation root canals have earned, modern treatment is very similar to having a routine filling, and we aim to make your experience as comfortable and pleasant as possible. Root canal treatment is necessary when the pulp inside of your tooth becomes inflamed or infected. That inflammation or infection can cause severe pain and can stem from a variety of causes, including deep decay, trauma to a tooth, a crack in the tooth or faulty crowns. Root canal treatment involves removing the infected pulp and cleaning the inside of the tooth. The tooth is then filled, sealed and restored with a crown or filling. The treatment maintains the natural appearance of the tooth and allows it to continue functioning as normal.
Oral health education
In all of our appointments with you, we aim to provide you with useful information about how to maintain your oral health and prevent more involved procedures down the road. At teeth cleanings, we'll discuss how frequently you brush your teeth and whether you're cleaning thoroughly in between them. If you have other health conditions, like diabetes or arthritis, we're happy to talk with you about how those can impact your oral health and offer suggestions for ways to maintain it. And we may talk to you about other dietary and lifestyle choices, such as drinking coffee, smoking or consuming sugary drinks, and the impact on the health of your gums and teeth. If you ever have any questions about oral health and hygiene, ask your dental hygienist or dentist the next time you're here.
If you would like to request more information about teeth cleaning or any of our general dentistry services, don't hesitate to get in touch with us now. Please call our team at Millersville Family Dentistry at 410-729-0390 to schedule an appointment!