Full & Flexible Partial Dentures for Millersville, MD Patients
Restore Your Smile & Confidence with Our Dental Services
There are a few things to consider if you are contemplating having full or partial dentures made for your mouth. Dentures are inserted into your mouth to replace your missing natural teeth, acting as a support for your cheeks and lips. In addition to making eating and smiling easier, they can improve your self-confidence after having lost a large number of teeth to decay, gum disease, or as a result of a genetic disorder. At Millersville Family Dentistry, we have earned a reputation for offering superior family dentistry for patients of all ages, delivering the results you want from our dental services. Say farewell to missing teeth and learn more about how full or flexible partial dentures can change your life in Millersville, MD.
Types of Dentures Available for Our Maryland Patients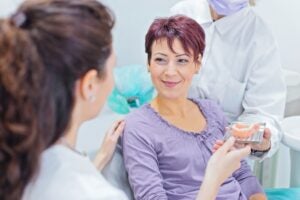 Patients who are missing an entire arch of teeth (top or bottom) benefit the most from full dentures. However, if you are only missing a few teeth along the same arch, you could be an ideal candidate for partial dentures. Typically crafted using acrylic material, dentures have a gum-colored base and teeth that are made to mimic your natural smile. Whether you need full or flexible partial dentures, Millersville Family Dentistry will take an impression of your mouth to give you the most comfortable denture fit while also allowing plenty of room for your tongue. Although natural suction keeps dentures in place, many patients also purchase over-the-counter denture adhesives to make them more secure.
What Are the Benefits of Full or Partial Dentures?
Don't let missing teeth prevent you from smiling in confidence. Aside from being created to fit your mouth and being easy to clean, the benefits of full or partial dentures include all of the following:
Improve Your Speech – Missing teeth sometimes causes speech impediments because tongue placement on your teeth while speaking helps with pronunciation. While it may take time for your jaw muscles to adapt to your new dentures, you should notice improvements over time.
Support Your Facial Structure – Missing teeth can cause facial sagging, which can actually make a person look older than they are. Thanks to dentures, your face will appear fuller. You can knock off years from your appearance while knowing your facial structure is being supported.
Enhance Your Smile – There's no doubt about it: dentures improve your smile's appearance. Missing teeth or gaps may make you feel self-conscious, affecting how confidently you smile. Because dentures are made to mimic your natural teeth, nobody can tell you're wearing them.
Make Chewing Easier – Chewing can be cumbersome when you're missing teeth. Don't worry about missing out on any of the foods you love, including apples or corn-on-the-cobs. Thanks to dentures, you won't have to limit your diet or cut your food into smaller pieces.
Improve Your Health – Even missing just one tooth can take a toll on your oral health, making you more susceptible to gum disease, cavities, and other issues. Wearing dentures will help you minimize your risk of developing problems while restoring the function of your natural teeth.
How Much Do Full or Partial Dentures Cost?
The good news is many dental insurance plans will cover a portion of your full or partial dentures costs. Millersville Family Dentistry accepts the following insurance companies and many more: Aetna, Anthem BCBS, Cigna, Delta Dental, Humana, MetLife, and United Health Care. For your convenience, we also offer interest-free payment plans for patients with approved credit. Check out our Patient Center to view and download new patient paperwork, our HIPAA privacy notice, and more. Our staff is always happy to help you!
Interested in Learning More About Dentures? Contact Us!
If you would like to find out more about how dentures can enhance and improve your life, contact our team for more information or schedule an appointment. Be sure to bring a list of questions with you to your dentures consultation, so you can make a well-informed decision about what's right for you. At Millersville Family Dentistry, we tailor all dental treatments according to our patients' unique situations.
Our Value
Statements
SAME DAY Emergency Appointments
Convenient Hours/Location
State of the Art Practice
Interest Free Payment Plans
Practice Serves the Entire Family
Accepts Most Insurances