Enjoy Thorough Scaling & Root Planing Results in Millersville, MD
Upscale Your Oral Hygiene with Scaling at Millersville Family Dentistry
Millersville Family Dentistry offers scaling and root planing for families in Millersville, MD. We prioritize your oral hygiene to prevent any unwanted diseases or conditions that can develop. When you maintain proper cleaning, flossing, and routine visits with our team, you can be ensured to decrease any risks of problems. Our professionals are trained to provide detailed scaling and root planing services so bacteria can stay away from your teeth and gums. You deserve a healthy smile and optimal comfort for healthy living. Contact us today to schedule an appointment.
What Is Scaling & Root Planing?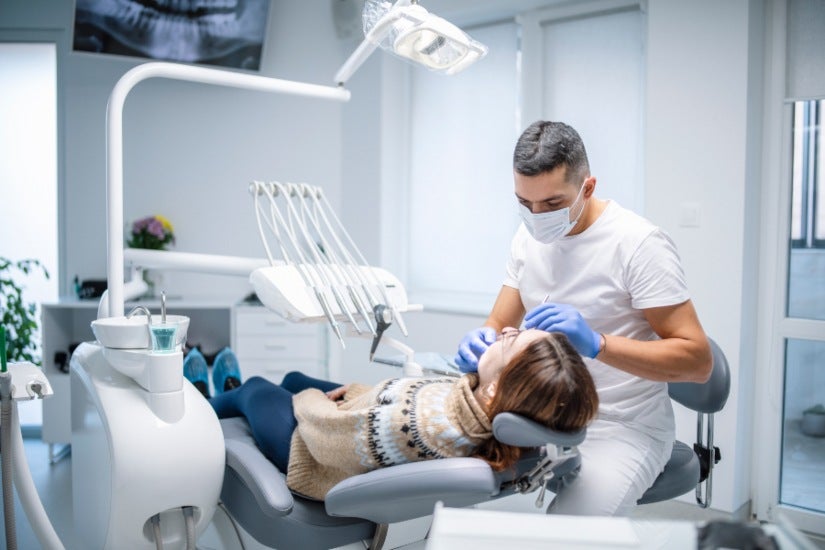 Scaling and root planing are effective ways of enhancing the treatment of periodontal disease in patients. This condition involves inflammation and damage to gum tissue caused by bacteria in your mouth. The pockets of infection underneath your gum line affect your connective tissues, which recede your gums away from your teeth. As this happens, tartar develops deep into the roots with no protection from getting worse. When you schedule an appointment for scaling and root planing, your dentist will deeply clean your teeth to remove the tartar while smoothing out the roots of your teeth to eliminate ridges where bacteria can thrive.
When Do I Need Tooth Scaling & Root Planing?
When you go for your routine dental cleaning, we will examine your mouth for any traces of gum infections or bone loss in your jaw. With the help of our X-ray machines, we can measure the pockets between your gums and teeth to determine the complexity of potential gum disease. If you notice any of the following symptoms, you should give us a call so we can prevent any further problems from occurring:
Receding gums
Bleeding gums
Deep gum disease pockets
Red, inflamed gums
Bad breath
Loose teeth
Infected teeth
What Is the Process of Treatment?
The scaling and root planing procedure involves a local anesthetic to numb your mouth area, or you can use dental sedation. We'll scale your teeth by scraping away all plaque and deeply cleaning any pockets between your gums and teeth. Our root planing technique involves smoothing your gums to help them reattach to your teeth. This helps to heal any infections and restore your oral health.
What Are the Benefits of Scaling?
There are several benefits to scaling those aids in maintaining proper oral hygiene and protects against worsened diseases. If you notice buildup or have any form of gum discomfort, it's essential to schedule an appointment so your dentist can treat the situation. When you let these symptoms linger, it could result in extensive damage and treatment. Here are the following benefits of scaling:
Enhances the health conditions of deep pockets to protect against infection
Lessens the chances of tooth, tissue, or bone loss
Aids in controlling bad breath
Dampens risk for heart disease, diabetes, stroke, and high blood pressure
Helps you save on budget by deep cleaning gums before the condition worsens
How Can I Maintain Proper Oral Hygiene After My Procedure?
After your deep cleaning, you may experience mild discomfort and soreness. If it's too much to handle, you can take over-the-counter pain medications to alleviate any after-effects. Our dentists will review techniques and methods to maintain a healthy smile so you can reap the benefits of scaling and root planing until your next routine visit. You can always call us if you have any questions or concerns after your procedure.
Why Should You Choose Us for Service?
Millersville Family Dentistry is dedicated to ensuring you maintain proper oral hygiene care in a welcoming and friendly environment. Our professionals are skillfully trained to provide the best treatment plans for your teeth and gum health. If you need us to descale any plaque or tartar buildup, we're readily available to alleviate any discomfort it may be causing. We also offer other services, keeping your best interest in mind. Schedule an appointment with us and consider the following additional ways we can treat you and your family:
Our Value
Statements
SAME DAY Emergency Appointments
Convenient Hours/Location
State of the Art Practice
Interest Free Payment Plans
Practice Serves the Entire Family
Accepts Most Insurances