Dental Services in Millersville, MD for Patients of All Ages
Millersville Family Dentistry: A Dental Clinic for Your Family
At Millersville Family Dentistry, we understand every patient is different and requires personalized dental treatments. That's why we offer a wide variety of dental services in our Millersville, MD office to meet all of your family's requirements. Whether you're coming in for your very first checkup or you've been with us since we opened, the dentists and staff at our emergency dental clinic will treat you with the utmost respect and take the time to learn more about your unique dental care needs. We offer general, cosmetic, restorative, and emergency care with same-day appointments available. Our clinic is currently accepting new patients of all ages (over the age of 5). Call now to schedule an appointment!
Thorough Dental Treatments for Children, Teens, and Adults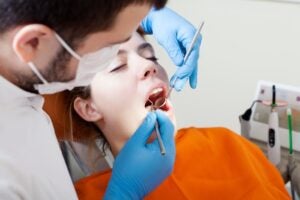 Millersville Family Dentistry routinely goes the extra mile for our patients. Treating children, teens, and adults, our goal is to ensure the best possible dental care for patients of all ages. We would love to see you every six months for a checkup and cleaning to make sure your teeth and gums remain healthy and free of decay or disease. Our state-of-the-art Millersville dental office is happy to offer your family the following dental services and more in a relaxed, supportive setting:
Why Choose Millersville Family Dentistry for Your Dental Health?
From pediatric to geriatric patients, Millersville Family Dentistry strives to provide the best dental care. Our helpful, knowledgeable dentistry staff would be happy to answer all of your relevant questions regarding our dental services. From the moment you come in for your first checkup and cleaning, you can rest assured you're in capable, caring hands. Our patients' oral health remains our top priority. We do our best to educate people of all ages about the merits of preventative care and good oral hygiene. Our staff is also willing to discuss how decisions you make about your dietary and lifestyle choices can affect everything from your oral health to the rest of your health. Whether you'd like to quit smoking or stop consuming as many sugary drinks, don't hesitate to ask for helpful tips the next time you're here.
Looking for a New Family Dentist? Give Us a Call Today!
If you've recently relocated to the Millersville area and are in search of a new dentist for your family, Millersville Family Dentistry welcomes new patients. Whether you need teeth whitening, emergency dental care, or it's time for a checkup and cleaning, please give us a call today to schedule an appointment at your earliest convenience. Located on Old Mill Road, our dental office is right off Crain Highway and is open Monday through Saturday, with same-day appointments for emergencies. New patients will find new patient paperwork, our HIPAA privacy notice, and insurance info on our website.
Our Value
Statements
SAME DAY Emergency Appointments
Convenient Hours/Location
State of the Art Practice
Interest Free Payment Plans
Practice Serves the Entire Family
Accepts Most Insurances