Dental Crowns and Bridge Treatment in Millersville, MD
Restore Your Health and Smile with Our Dental Services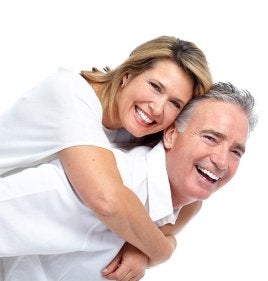 If you have cracked or decayed teeth that are damaged beyond restoration through fillings, you could be a candidate for dental crowns and bridges. Millersville Family Dentistry provides dental services suitable for the entire family at our dental office in Millersville, MD. Dental crowns and bridges help many of our patients restore their smiles while improving their oral health and self-esteem. Don't let misshapen or missing teeth prevent you from living your life to the fullest. Talk to our team about treatment options!
What Are Dental Crowns and Bridges? How Long Do They Last?
Also known as caps, dental crowns fit snugly over your teeth and are made from tooth-colored ceramics that blends naturally with the rest of your smile. Dental crowns are essential to preventing further deterioration, especially after a dental procedure such as a root canal. Crowns not only protect treated teeth, but they also fortify them against further damage, ultimately saving you from needing a tooth extraction. Bridges are intended to join two crowns to fill a missing gap. Between the two crown-covered teeth is an artificial tooth used to help "bridge" the empty space. Dental crowns and bridges look natural and offer semi-permanent restoration solutions that may last up to 15 years with proper oral hygiene and care.
The procedure for dental crowns and bridges is fairly straightforward. First, we'll have you come into our office to discuss your available treatment options. Your teeth may need to be filed down or filled in to ready them for their crowns for the best results. Our dentist will also make an impression of your teeth to ensure the best possible bite and fit. This impression is sent to a lab to create your custom crowns. Usually, this process takes a few weeks, so we'll have you return for the actual installation. Depending on your situation, we may suggest other dental restorative options, such as dentures or dental implants.
What Are the Benefits of Dental Crowns and Bridges?
Dental crowns and bridges offer practical and aesthetic advantages, making them a viable option for many patients with missing or severely decayed teeth. Crowns last longer than many other restorative options because they're made of strong, durable porcelain or ceramic material. Because we can match the color of your crown to your surrounding teeth, they are natural-looking. Dental crowns and bridges restore not only the beauty of your smile but also the functionality of your teeth and the equitable distribution of bite pressure and chewing force, so you can chew and speak more efficiently.
Dental Crown or Bridge: Which Restoration Is Right for You?
Because dental crowns and bridges are related treatment options, you may be wondering how to tell which is best for your situation. If you have a severely damaged tooth, but it could still be used, we may recommend a dental crown. If your teeth are already missing or you require tooth extraction, you may benefit more from a dental bridge. Dental crowns and bridges may be needed for the following reasons:
Protecting damaged teeth
Protecting sensitive teeth
Covering decayed teeth
How Much Do Dental Crowns and Dental Bridges Cost?
Dental crown and dental bridge costs will vary depending on the extent of treatment you need. How many missing teeth you have, the type of crown material used, and the degree of difficulty involved in the placement of a dental bridge can all be factors in determining your treatment costs. Some patients may req
Our staff would be happy to help you determine insurance coverage and out-of-pocket expenses during your consultation. We accept many insurance providers, including Aetna, Blue Cross Blue Shield, Cigna, Delta Dental, Humana, Maryland Healthy Smiles, MetLife, and United Health Care. Our office also offers interest-free payment plans to help make our dental services more affordable if you're on a budget.
Schedule an Appointment at Millersville Family Dentistry
Many individuals choose dental crowns and bridges because these treatments can significantly improve their smile's appearance and functionality. Our team at Millersville Family Dentistry would be happy to discuss your options to determine the best solution for you. Please give us a call today to make an appointment for all of your family's dental needs in Millersville and the surrounding area. If you're a new patient, you may download and fill out our new patient paperwork prior to your visit.