Cosmetic Dental Bonding in Millersville, MD
Correcting Minor Cosmetic Flaws in Your Smile
A minor smile flaw is enough to provoke insecurities. Whether you are struggling with a chipped, cracked, stained, or discolored tooth, Millersville Family Dentistry has the solution with our cosmetic dental bonding in Millersville, MD. Allow our dental professionals to restore your smile with composite resin materials that look and feel like your natural teeth.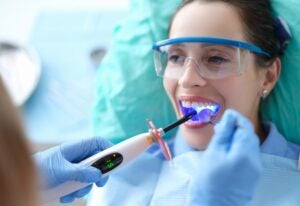 What Is Dental Bonding?
Dental bonding refers to a cosmetic process that uses composite resin created from tiny pieces of acrylic and glass that allow for a putty-like texture that can be molded and shaped to fill in areas of your natural tooth that are impacted by cosmetic concerns. Dental bonding uses the same materials as a tooth-colored filling and can be color-matched to suit your smile.
Dental Bonding to Satisfy Many Concerns
Dental bonding can be used to satisfy an array of dental concerns. It can be used for discoloration in patients whose teeth may not be suitable for traditional teeth whitening. It can be used to correct chips, cracks, or minor damage. Additionally, it can be used to fill gaps, lengthen teeth, or fix misshapen smiles.
What to Expect During a Dental Bonding Procedure?
Dental bonding begins with a consultation to examine your oral health and the tooth to curate the most effective cosmetic dental bonding treatment plan. You can choose the color of your bonding, and anesthesia is not required for the treatment, allowing you to return to daily activities immediately following your dental bonding procedure.
Who Is a Candidate for Dental Bonding?
Dental bonding can be used to accommodate a range of patients with varying smile imperfections, including:
Chipped, cracked, or fractured teeth
Minor decay
Gaps or gummy smiles
Stains or discoloration
Uneven or misshapen teeth.
The Dental Bonding Process
The dental bonding process is simple and pain-free. Depending on the number of teeth receiving dental bonding, most treatments can be completed in one appointment. The process begins with smoothing any jagged edges to prepare the tooth. Once the color is selected, the resin bonding is applied in layers and sculpted to your natural tooth size and shape.
Dental Bonding After-Care
 Following your dental bonding procedure, you may return to your usual activities immediately. While you may eat or drink directly after your appointment, avoiding beverages or food that cause staining, such as coffee or wine, is important for at least 48 hours.
Maintaining Your Bonded Teeth
With proper care, dental bonding can last up to ten years. It's important to be consistent with your oral hygiene regimen, ensuring daily flossing and brushing. Furthermore, it's essential to schedule regular oral examinations and cleanings to uphold your oral health and dental bonding.
Choose Millersville Family Dentistry
 At Millersville Family Dentistry, our dedicated dental professionals are backed by an array of prestigious accreditations and training. Our state-of-the-art practice provides a relaxing and welcoming environment where our patients can feel comfortable and cared for throughout their dental needs.
Schedule Your Cosmetic Dental Bonding Today
 Millersville Family Dentistry extends our knowledge and wealth of experience beyond cosmetic dental bonding. We provide various dental services, from general dentistry to pediatric dentistry and beyond, to ensure our patients receive the quality dental care they need to maintain their healthiest smiles. Say goodbye to minor cosmetic concerns with dental bonding and Millersville Family Dentistry. For exceptional cosmetic dental bonding treatments led by industry-leading professionals, contact our friendly team to schedule your dental bonding appointment today.
Our Value
Statements
SAME DAY Emergency Appointments
Convenient Hours/Location
State of the Art Practice
Interest Free Payment Plans
Practice Serves the Entire Family
Accepts Most Insurances